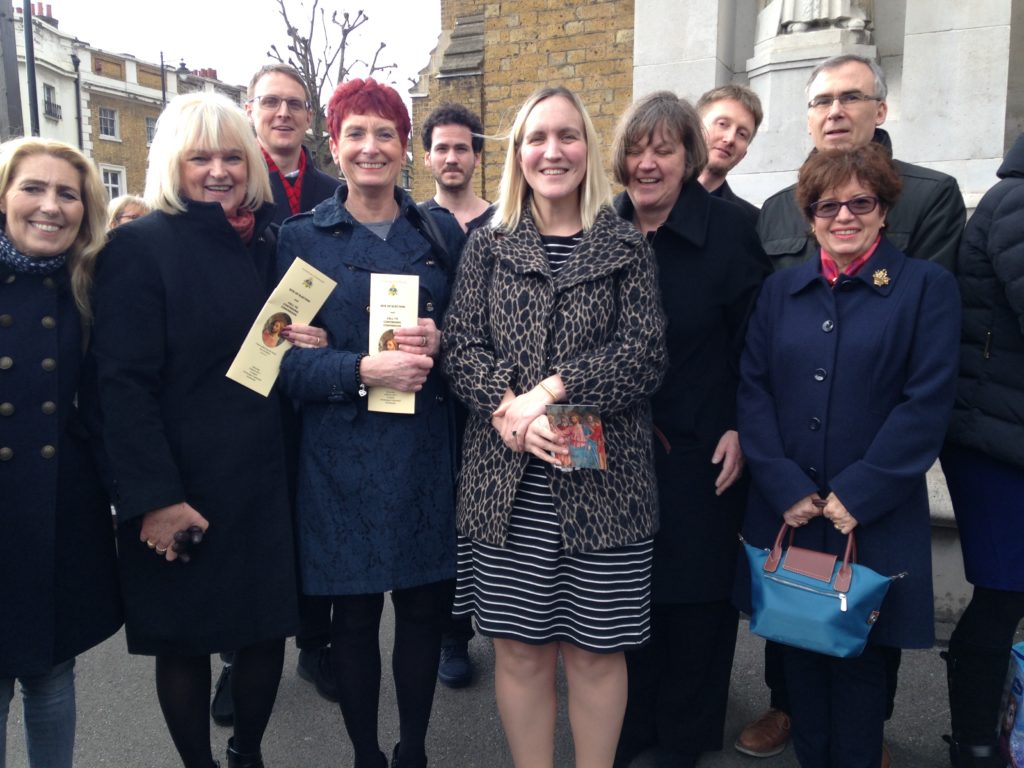 Parishioners from St Joseph's have celebrated the Rite of Election and Call to Continuing Conversion at St George's Cathedral, Southwark.
The group comprised three catechumens for baptism and three candidates for communion, with their godparents and sponsors, and the facilitators of Journey in Faith.
Before the service started, the group was put through its paces by the choirmaster, learning the responses. After the entrance procession, the Archbishop welcomed everybody and there were readings from Romans and the Gospel.  The Archbishop then gave the homily.
During the Celebration of Election, the catechumens were presented; each catechumen's name was called and they and their godparent stood to give their affirmations. The candidates and their sponsors then went through the same procedure, before all were welcomed into the Catholic faith by the Act of Recognition by the Archbishop. Afterwards, there was the opportunity to have photographs taken with the Archbishop.
Those who attended thoroughly enjoyed the event.
Alex describes it as an overwhelming mixture of different positive emotions and thoughts. "First of all, the ceremony was beautiful, the singing was spiritual and moving, and the issues were real and grand: life and death, faith and unbelief, freedom and slavery, holiness and sin, pain and joy, temporary and eternal, freedom of choice and cost – above all, there is the absolute central figure of Jesus Christ. It felt both grand and very personal. It felt that you could belong, at whatever level and situation in life you are. It was a peaceful, joyful and meaningful experience. I am very grateful for the opportunity to continue on the journey."
"It was a very moving occasion in a very beautiful cathedral," says Sue Stead. " The singing of the congregation was wonderful to hear."
"The service left me feeling joy, peace and a sense of home coming," said another of the catechumens.
"I found the induction an inspiration and fulfilling," said Tony. "The organisation was first class, which helped the day to be stimulating – not to mention the fish and chips afterwards!"