The latest Journey in Faith Confirmation event has been described as an "experience of love and joy".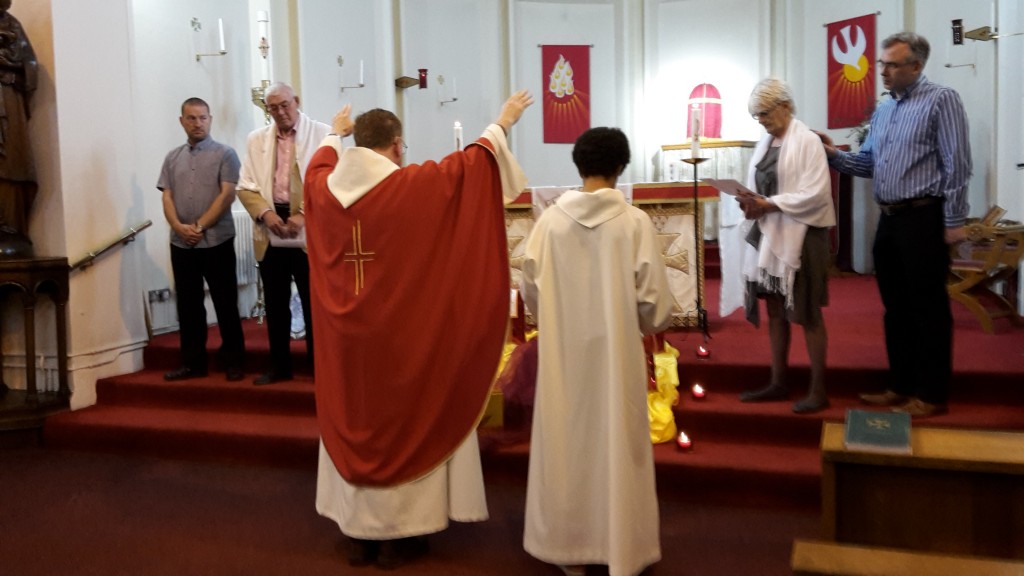 Two parishioners were confirmed at Pentecost and three  were baptised and confirmed earlier in the year, during the Easter Vigil.
Above: Alan Burles and Linda Fivelman (in white shawls) during their confirmation, with their sponsors Gerry Scanlon (far left) and Matt Gibbs (far right)
Alan Burles, who was confirmed at Pentecost, described the day as "a journey of learning combined with love and fellowship among a group of people who I can open my heart and inner feelings to".
After the event, he said:  "This has brought me closer to God and strengthened my faith in him, and given me a sense of belonging to the community in the Parish of St Joseph's and St Swithins. This was sealed at my confirmation, which was an experience of love and joy on a day I will never forget."
Linda Fivelman, who joined Journey in Faith (JIF) only a few months before her Confirmation in May, added: "The enjoyment and quality of a journey is not only dependent on what you see and learn, it's also remembered, too, for the people you meet along the way.
"I was delighted to find myself joining a group of amazingly welcoming people, with enquiring minds, and highly intelligent conversation. Every meeting has been incredibly interesting, with the added bonus of laughter and humour! Everyone radiates the joy they find in their faith. JIF evenings are those rare meetings in life that one actually looks forward to,  coming away intellectually stimulated and spiritually richer."
The other parishioners who were confirmed are Dahlea Forrester, Katie Curtis and Barry Emans.
Barry thanked all the JiF team for their support over the past year. "They are a great bunch of people, which has made the journey all the more enjoyable," he said.
"I had not set aside the time previously in my life to consider my faith and JiF has given me that time to reflect on how God has been and continues to be part of my life. Receiving the sacraments at the Easter vigil was a truly unforgettable moment, as was the Rite of Election at Southwark Cathedral.  I have been made to feel very welcome in the Catholic community and look forward to being involved in the parish."
Matt Gibbs, Linda's sponsor, said: "I have long thought that Pentecost is a very special time in the Church. It is a moment when we can be refreshed and re-ignited in our faith.  It is extra-special then when we have the privilege to be joined by new Catholics being ​Confirmed for the first time at the Vigil. It was a great occasion for Linda and Alan.
"We look forward to accompanying​ them​ this year too​,​ as they continue ​on their journey as Neophytes – new life and a great blessing to our parish Family."
Above: Barry is confirmed during the Easter Vigil