For those who journeyed through the RCIA, Journey in Faith, their time of celebration began at Easter, the highlight of Holy Week.
The final days of preparation for our Elect and Candidates were celebrated during the last three days of Holy Week. On Holy Thursday, the Elect, Candidates and parish community were reminded of their call to a life of Christian love and service as Fr Tom and Deacon Barry washed their feet, a remembering of Jesus washing the feet of his disciples.
On Good Friday, they, together with the congregation, meditated on the self-sacrificing love of Jesus, whose heart and body were broken so that ours might be made whole.
Holy Saturday was for the Elect and Candidates, their godparents and sponsors, and Catholic friends – a day of prayerful waiting, anticipation, and thanksgiving.
Finally, on Saturday evening, as the parish community gathered in darkness, the Vigil of Easter began. A flame pierced the darkness as the large Pascal candle, a symbol of Christ, was carried in procession into the church. The priest and the people sang in thanksgiving for the Light of Christ, the light of the World, and Old and New Testament passages were read, telling the sacred stories of salvation.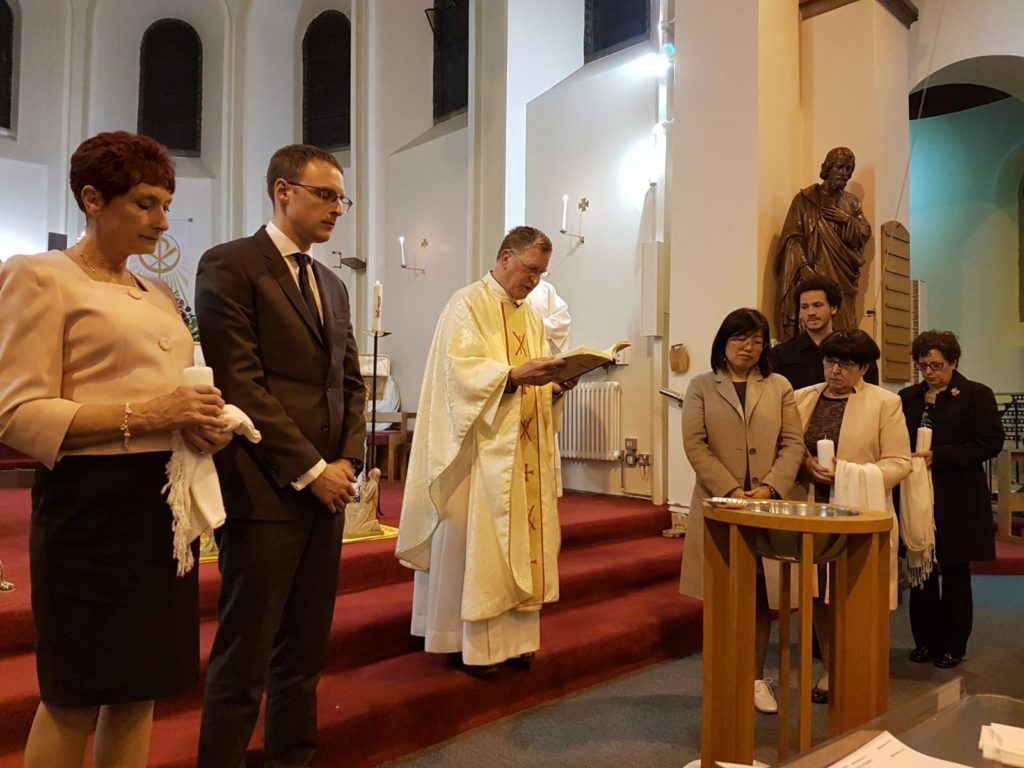 Now the journey of the Elect to the fullness of Christian initiation is almost finished. Following a litany of praise to the saints and a solemn blessing of the Baptismal water, Fr Tom invited those to be baptised to come forward. With their godparent's hand placed on their shoulder, each of the Elect entered and emerged from the water, a sign of dying to self and rebirth in Jesus Christ. Immediately, the newly baptised were clothed in a white garment and received a lighted candle – images of the radiance of new life and faith.
Next Fr Tom confirmed the newly received and those baptised Christians in our group by laying his hands on, and anointing, each person with chrism oil. He prayed with the community that they be sealed with the Holy Spirit, who is both our helper and guide.
Now at last, the newly initiated were invited to remain with the faithful to share in the Lord's Supper. Now, for the first time, they approached the table of the Lord and received the body and blood of Christ. They arrived at this moment surrounded by their family and friends, who have journeyed with them.
They are, and hopefully will continue to be, with our support, a gift and a blessing to our parish community. The photos tell part of their story; their lives from now on will write the rest.
The evening finished where the journey began, in the Upper Room. There we celebrated together in what has now become the traditional way, with good wishes, good food, wine and cake, love and laughter. Thank you to all who made this possible.