Our parish celebration for Father Cyril Elkington's 90th birthday was an unforgettable tribute, attended by a large number of parishioners and friends: St. Joseph's was almost full – even though it was on a weekday.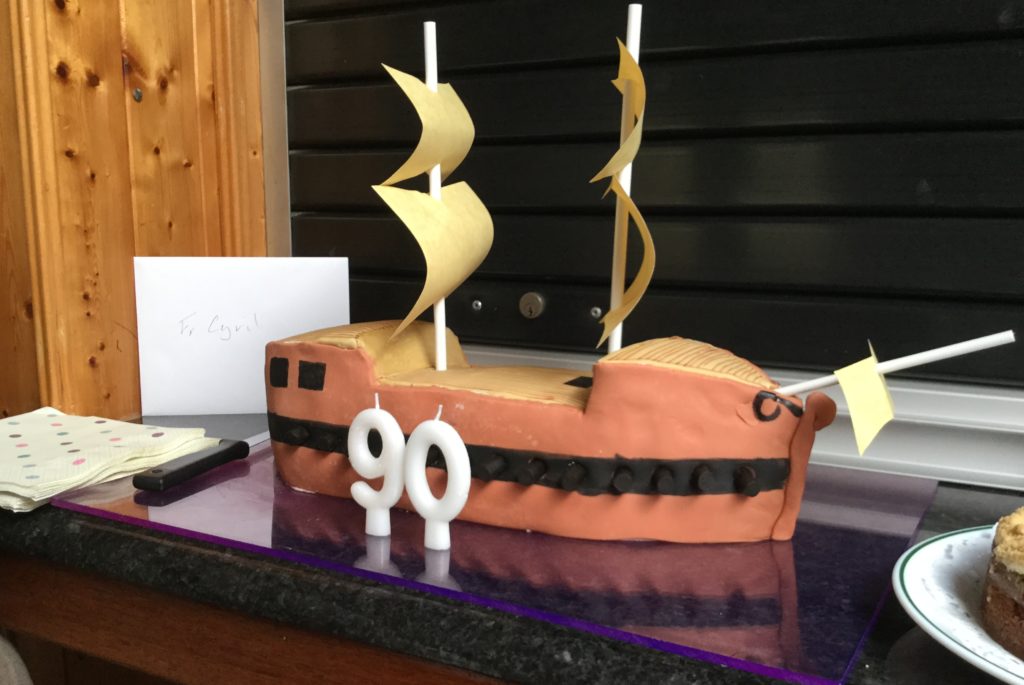 The Mass was celebrated by Canon Tom; Deacon Barry gave an insightful sermon expressing the affection and high regard which Father Cyril inspires in everyone with whom he comes into contact.
The celebration of the Mass was enormously enhanced by our joint choirs who generously donated their time. The chosen music reflected the joyous spirit in the congregation – everyone participated and appreciated the opportunity to make their own contribution to the liturgy in song. Many of the congregation enjoyed  refreshments after the Mass in the Club Room.
Father Cyril's career has included service as a curate, teacher, prison chaplain, parish priest of Carshalton Beeches and Lee Parishes and Episcopal Vicar for retired priests.
In his retirement, he has organised several unforgettable holidays for parishioners – perhaps the most memorable was a cruise of the Russian waterways from Moscow to St. Petersburg. Daily Mass was an important feature of the excursions. Father Cyril's knowledge of the Russian language helped out in several encounters ashore, and his gentle sense of humour helped everyone see the lighter side in every situation.
He always offers a warm welcome to any visitor to his home, not far from St. Joseph's Church, where Gina Clark cares for him, cooks wonderful meals and nurtures the lovely flower-filled garden with its beautiful statue of the Virgin Mary. His presence among us is a constant blessing; he manages to smile even when the aches and pains of growing older manifest themselves.
Long may he continue to give us all his example.
The cake, pictured above, was made by Deacon Aidan.